"We all do things differently."
This is a statement I hear from leaders once in a while when discussing workload management and productivity at their companies.
What this statement means is that employees are left to navigate their own day and figure out the best way to work to get things done. Some people struggle with this and some don't, but when everyone in a company is on a different page regarding how to manage their day and get things done, it can be costly and time-consuming for the individuals as well as for the company, though not every leader realizes this.
Those who recognize the potential loss from workday challenges and different work methods often want to fix or improve the situation by providing learning and development opportunities to their people. Those who don't recognize it are apt to leave it alone and leave things to chance.
The resulting situation is what researchers study and report on each year about the cost of interruptions, distractions, and multi-tasking. We read about the growing levels of email and the effect of information overload… every year.
Not every employee needs to operate in exactly the same way or act like a robot – and leaders don't need to start micro-managing their people – but efficient systems and processes adopted by a whole company can positively impact the bottom line. Both the individuals and the company can save a lot of time, energy and resources, and cash in on more productivity and progress. And whether a company employs 50 people or 500 people, the progress of a company still relies on the individual performance of everyone.
A quote from Business Brilliant by Lewis Schiff says this about working a system: "By performing faithfully (not flawlessly) the proper set of everyday, replicable behaviors, the results you produce can be outstanding…"
Good work habits are good. And they work.
Here are four areas where you and your team, department or company can work smarter and more efficiently.  Improvements made in these areas as individuals will allow you to be more productive as a team so you can make progress with greater speed and consistency.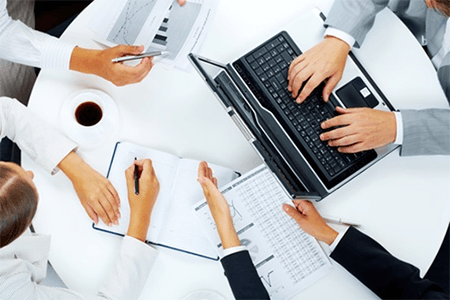 Decisions
You get a lot of stuff, right? What do you want to keep? What's useful to you? How long are you going to keep it? Where are you going to save it or store it? What's active and what's reference?
I could go on, but you're probably already overwhelmed with just these few questions.
And you're not alone. These questions often stump a lot of people, and it creates an overwhelming amount of stress, as well as a build-up of things they don't know what to do with. This causes clutter – physical, digital and mental – and as a result, that hampers creativity and crowds out clear thinking.
What's necessary first is a bit of slowing down. Take a pause when you receive new things. Review and make decisions about what you need or don't need. Second, create places for everything – whether for reference or action – and know where to find things when you need them so you don't lose progress on your most important tasks and priorities. The initial investment of time will pay off ten times over in the future.
Being able to make quick decisions, find things fast, and keep going on your tasks –without having to stop for too long to find something – allows you to speed up your productivity.
Time
Time is irreplaceable. You can always make more money, but you can't make more time when it's gone. So it's best to use time efficiently and for the right reasons the first time around.
Time is available to all of us, but not everyone knows how to protect it. All too often I see professionals use an all-day, open-door policy – which means your time is up for grabs – but if you don't protect your time, no one else will. Forget about trying to "find" more time. You have the time… right here, right now. So start protecting it.
When you protect time for planning and leave room in your calendar to do things that suddenly come up, you not only have more flexibility and breathing room, but through planning, you'll have a clear view of what you're trying to accomplish. When you use a task plan that keeps time in mind, you have the power to prioritize instantly and consistently.
As a company you can set up quiet time. This is a time each morning (or afternoon) when all personnel work quietly without interruption for an hour, although it can be more or less. It would be the same hour for everyone so universal quiet can be enjoyed, and while the phones can still ring (or not, if you all agree to send callers to voice mail), you'd be amazed at what can be accomplished in that hour.
It may sound impossible, but it's not. And it's more necessary now than ever.
Planning and Execution
Whether on a phone, tablet or computer everyone has a digital tool these days to document, track, prioritize, and complete tasks, but not everyone uses it – or knows HOW to use it. What's typically missing is a methodology to go along with the technology. This is a costly gap where everyone is left to their own devices – both figuratively and literally – and it's where professionals flounder the most.
Keeping track of to-dos can be a challenge. Files and papers are shuffled on desks, to-do lists are started then misplaced, and to-dos often stay stuck in their places of origin – email, voice mail, on paper, in files and in meeting notes.
Make it a point to use the digital tool available to you for managing tasks. Include what you're going to do and when you're going to take action – for everything – and before you know it you'll have an easy way to plan and prioritize so you can move proactively through the craziest of workdays.
Email
If people aren't given a solution for managing email, they will continue to scroll and search and use flags to try to keep up with them. But scrolling and searching cost too much time, and flagging is a useless tool.
Just flagging an email in the Inbox doesn't tell you what you need to do or when you need to do it. More importantly, it doesn't help you prioritize the task from the email with everything else you need to do. On top of that, the flag actually costs you: it makes you read that email again and again… often several times over.
Flagging also doesn't help when you have dozens, hundreds or thousands of emails in your Inbox. There's already a potential loss of things that are scrolling off the screen: follow-ups, to-dos, reminders, events, opportunities, questions, important information, and more. On top of that, it costs time to find those things if you need them.
However, when given an easy, reliable system for managing email, employees can handle email in the same way and actually get a handle on their Inboxes.
The main thing to accomplish with email is to turn the email Inbox back into an Inbox and have a reliable short list of folders on the left in which to store important emails. In addition to email folders, you also need reliable systems outside of email to store information such as a contacts, attachments and to-dos.
Today, far too many people use their Inbox as a catch-all, simply because it's searchable, but also because there may be no apparent way to easily manage it and no place to put things. This makes decision making almost impossible. It's hard to transfer information that came in and get it back out again. Hence, it stays in the Inbox.
Improvement is an Investment in Progress
Unfortunately, not seeing the "give and take" of an investment of time to learn a better way to manage tasks, time and email is costing you and ultimately your company.
When time gets away from you, you're left trying to make do with the scraps of time you have left. When tasks are left on paper or in various places, you're left trying to connect the dots and prioritize effectively. When the Inbox count is way up, awareness is way down, and that causes a lot of issues with task management, time management, and information management.
With the right system, process or method, individual awareness, clarity and control can go up and things missed, lost or forgotten can go down… and stress will go down, too. Then your productivity can get a big boost and provide you with progress and results you can really see.