Managing email in a vacuum without considering how it connects to the other systems and processes in your workday reduces your efficiency, productivity and progress.
Here's the problem with the advice people are giving you about managing email.
Other experts who talk about managing email faster or more effectively treat it as if it can be managed in a vacuum. They talk about the Inbox as if you could overcome email challenges without considering or including any other system or process in your workday.
It certainly would be nice to think that email can be managed ONLY within the email structure, but don't believe it. It's not possible if you want to manage your email effectively and efficiently, including managing ALL of the information and tasks that arrive in email.
There's more to your day than email
Email is a communication tool, but it's not the only one you have to contend with. The email Inbox is a way to bring email in, but it's not the only inbox you have to attend to. Emails contain all sorts of information, but the Inbox is never the place to manage that information, and email folders are often not the best place to manage it either. Email is a huge source of tasks in your day, but it's not the only source.
Your email system is just ONE small wheel in a larger, more complex workday machine full of gears and wheels. As a source of important information and tasks, it deserves plenty of attention during the day, but what you DO with the information and tasks AFTER they arrive in the email Inbox is what matters the most to your efficiency, productivity and overall progress.
Advice that Doesn't Help
Let's leave out software like Nudgemail or Boomerang for email management, which I wholeheartedly advise against—but that's another article entirely. Instead, I want to focus on the advice about "triaging" email, using an "Action" folder for emails containing to-dos, and using flags or stars to mark emails you want to come back to later in order to take action.
When it comes to planning, prioritizing and accomplishing tasks that come from emails, did you know that only using an "Action" folder in your email system is just about as useless as flagging emails or marking them as "unread" so they stay bold in the Inbox?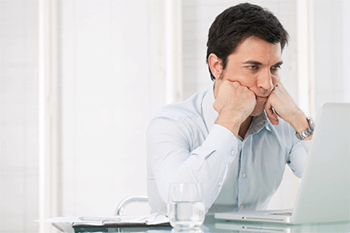 These are all useless actually—and a BIG waste of your time, energy and effort—if you want to plan your time, prioritize well, and get things done.
And even when these methods are somehow used in conjunction with some kind of paper to-do list, you're still left without an effective and reliable approach for managing all tasks—whether they arrive in email or from other sources.
Here's why.
Time and Energy Wasted
Email is only ONE of MANY sources of tasks in your workday. There are about ten sources, give or take, and it's impossible to efficiently or effectively plan, prioritize and accomplish tasks by managing them ONLY from their sources.
For example, if you only planned and prioritized tasks coming from the inbox on your desk, you wouldn't be taking into consideration the tasks coming from email or voice mail or from the to-do lists you write. Other sources include post-it notes where you jot a task resulting from a conversation, meeting notes where action steps result from a meeting, or papers and files on your desk representing still more tasks.
When you discover tasks you need to do as a result of receiving emails, you might flag those emails or mark them as "unread" so they stay bold in the Inbox, but this only causes you to review those emails again and again throughout your day, and you still might not necessarily get anything done. You're not adding them to an overall plan, you're not prioritizing them with everything else you have going on, and you're not necessarily getting anything accomplished.
As well, when you simply move emails into an "Action" folder for future review, the same thing is happening. You spend time reviewing specially marked emails and consider what action is required. Can you do it now? Do you need to do something else first? Are you in the mood to do this? Do you need to consult with someone else first?
And you're not just reviewing these special emails once a day. You're reviewing them multiple times throughout your day.  Or worse, they become invisible or forgotten because they're not part of a larger, more meaningful plan. What results is an accumulation of time spent and not much to show for it.
Moreover, you're re-reading and re-assessing specially marked emails not just to figure out what to do next with your time. You're also reviewing them to TRY to keep everything in mind. You don't want to miss any deadlines, lose information, or forget an important to-do or follow up that should be handled sooner than later.
This process creates a heavy burden on your mind, which can easily be overloaded, and cause stress and overwhelm for you. It also causes you to triple—at the very least—the time it takes to effectively plan and prioritize your tasks. This means you have a great delay in actually finishing tasks and projects, which works against you if you're trying to make significant progress every day.
The Bigger Picture
The workday machine is driven by a lot of gears and wheels, and the biggest and most necessary wheel in the system is a digital Task List. It's a single system containing one plan, prioritized by when you'll take action, and it acts as the driving force that supports your progress.
The smaller gears that keep this big wheel spinning include all the sources of information and tasks in your day: the inbox on your desk, your voice mail, meeting notes, papers and files, email and more.
Once new information and new tasks reach you in various ways, they need to move forward until they are dropped into systems for future reference or action. Because sources of information are not the places for managing information. Sources of tasks are not the places for managing tasks.
And THAT's the bit of advice no one mentions. It's the missing piece necessary to make your workday more efficient and productive—a workday that produces finished tasks and projects faster and easier.
Centralize and Make Your Day Easier
Building reliable systems to manage reference information and tasks allows you to spend more time and energy getting things done instead of trying to keep track of everything you receive.
For instance, no matter the source of contact information, it gets centralized into a Contact manager or CRM. Same goes for appointment information going into your digital Calendar, attachments saved in an e-document library, and physical papers and files going in file systems, whether in desk drawers or file cabinets.
And specifically for tasks—again, no matter their source—they can be added to a digital Task List. It's a centralized, comprehensive system for managing tasks that allows you to…
Achieve total clarity and awareness of tasks
Plan and prioritize, which you must be able to do instantly and constantly
Avoid the guesswork about what to do next when you finish a task
Eliminate the worry that you've missed, lost or forgotten something—or a lot of somethings
Without each of these abilities, you'll be guessing about both your plan and your priorities, questioning the best use of your time, and falling behind on accomplishments and progress.
The ideal situation is to be able to find something at the exact moment when you need it—whether for reference or action—so you can keep moving forward. Systems allow you to use your time effectively so you never stop for too long to look for something you know you have, but just can't find.
And the BEST progress comes not from trying to manage everything according to where it came from (sources… like email), but by managing it according to how it's useful to you (systems.)
Final Thoughts…
Take caution when you hear email management advice that talks about what you can do with email ONLY within the Inbox or with email folders. That's not the whole story. There are other systems in play when managing email, as well as the information and tasks email brings.
Again, email is just one small piece of a bigger workday machine made up of many gears and wheels. And when they're all working together efficiently, you'll have a well-oiled machine and a very productive workday, giving you the ability to get things done faster and easier so you can make more meaningful, visible progress.