Your ability to be productive depends on two essential elements that drive planning, prioritizing, and achievement. Categories aren't one of them.
Do you organize your to-dos by category – whether by projects, jobs, departments, calls, follow-ups, or some other topic?
It's an age-old attempt to manage to-dos, but it doesn't work and it won't serve you if your ultimate goal is to take control of your tasks, prioritize effectively, and accomplish tasks in a timely manner.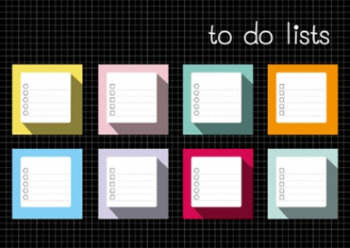 Over the years, I've seen countless to-do lists, task lists and task plans. Clients show me what they've created and whether their plan is on paper or in a digital format, they proudly show me how they've organized their to-dos by categories.
And it's the first thing we dismantle.
Why?
Because this approach is working against them. It's inefficient, ineffective and unproductive for getting things done. And if you're doing it this way, too, it will ALWAYS work against you.  Here's why…
Time is missing from the plan.

What you want to do + When you want to do it = a Plan of Action

If you're missing the second factor, which is all about timing, you're missing a true plan of action, which is necessary if you want to be in control of your workday and your success. Without a sense of timing, you only know WHAT you want to do, but you have no idea WHEN you'll actually get to it, and that means you haven't truly prioritized. This opens the door for losing track of what's most important to do, when you want to take action, and when you wish to see completion, because there's no plan to begin with.

You're wasting time.

When you manage your tasks by category, you're actually wasting time reviewing lists again and again… and again… to figure out what to do next instead of getting things done. You'll struggle with planning and prioritization – which also wastes time – and it's too easy to lose track of when you wanted to take action on certain tasks within certain time frames. You shouldn't have to look at multiple lists in order to know how to spend your time for one day. You should only have to look in one place.

The Task-Time Connection™ is broken or missing.

In Taskology, the Task-Time Connection™ is essential. It promotes realistic planning and prioritizing of tasks based on the time you have available AND, at the same time, it promotes proactively getting the time you need to accomplish more of your real priorities.

Professionals typically have too much to do and not enough time, so the goal is to reduce what you target accomplishing each day and increase the time you need to get things done to ensure you get the right things done at the right time. But by categorizing tasks into numerous lists, it doesn't help you match your high volume of tasks with the little time you have. It does nothing to help bridge the gap between tasks and time and make this connection stronger.

What matters most is what you'll do today.

With tasks broken apart into lists by categories, you likely have a handful of lists, if not a dozen, and at that point, it's too many lists to reference in order to determine how you'll spend your time TODAY.

The challenge stems from not getting a sense of how much you really NEED to do or CAN do today, because tasks are spread out among various categorical lists. These won't give you a sense of true volume of existing tasks, which may cause you to have unreasonably high expectation of what you can actually do in a day, and you may over-promise and under-deliver to others.

Effective task management isn't defined by what KIND of task you're going to do. It's defined by determining the most important things to do and of those things, which ones you can do today (remember… the time element.) Outside of making a bunch of calls within an hour planned for that reason, using categories is just an exercise in organizing tasks, but it's not an effective plan for getting things done.

You need a common denominator not multiple categories.

If you try to keep track of things to do in terms of categories, like projects, instead of tasks, you'll have a hard time planning and prioritizing. You'll also have a hard time knowing how long it will take – realistically – to get something done.

To overcome this, you need to work with the lowest common denominator, which is task management, and get away from project management for driving day-to-day progress. More specifically, you need to focus on teeny, tiny action steps to get things started or keep them moving forward.

Working with very small action steps makes it easier to accomplish things in small stretches of time, identify and plan next steps, and keep making progress. Plus, you'll have an easier time of knowing how long it will take to not only accomplish the tasks but the projects as well.

Only ONE plan will drive your progress.

In order to effectively accomplish tasks – the RIGHT tasks – today and every day, you must create ONE location to gather ALL of your tasks. The list you create is not intended to be one long list of 100 tasks and all tasks are not planned for one day. But having your tasks documented in one system allows you the ability to do three things: have ONE location to gather and refer to all tasks no matter what their original source, effectively compare and prioritize tasks, and decide how to spend your precious time based on two important factors: task value and time.

Task value and time will help you prioritize. Categories won't.

What's MOST important for effective task management is thinking in terms of task value to your overall project and goal achievement, and time necessary to get tasks accomplished. These two essential elements allow you to plan and prioritize carefully so you can get things done.

First, document everything or you'll continuously live in fear of missing, losing or forgetting something. With all tasks in one place, you can define value and time more easily.

VALUE: Which goals and projects are more important than others?

Determine which major goals or projects you're trying to accomplish and only target a few so you're not overwhelmed. Drill down into the tasks or steps you need to do first or next to keep projects moving forward. Once you evaluate each project or goal, you'll know how important the related tasks are and how to connect value and sense of urgency to each one.

TIME: When can you get first or next action steps completed?

If you need to see, do or remember something this week, it needs to show up on this week's list on the day when you need to take action. If you DON'T need to see, do or remember something until next week, next month or next year, still document it, but target a date for approximate review or action when you want to see it, do it or remember it, no matter how far out that is.

When all tasks are documented, you can see your priorities clearly, and with this task management approach you'll always have peace of mind that you've captured important tasks, prioritized them based on their value, and created a realistic plan of action – regardless of what KIND of task it is, which really doesn't matter. What matters is getting the right things done at the right times thereby tying task accomplishment back into your overall goal achievement.
Every now and then
Now… having said all of that, the only reason to use categories would be to see your list at a quick glance… once in a while… by categories, but it is ineffective as the primary driver for getting things done on particular days. It's only handy as a secondary view of your list… just another way to see your tasks.
In the end, remember to keep your tasks all in ONE system, prioritized based on task value, and realistically planned for various days based on time – what you have or what you can get. Only then will you be able to target getting the right things done on the right days and you can thoroughly enjoy more clarity of tasks, progress you can really see, and accomplishment you can feel good about.